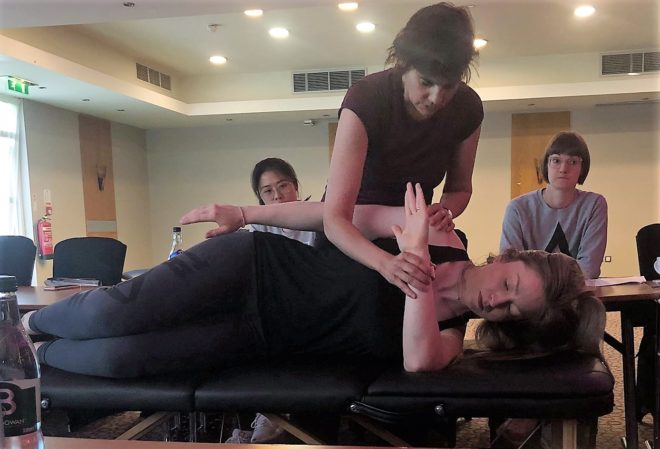 Clinic News
It's been a busy month for us all – Jenny, back from maternity leave, had no time to break herself in gently as she's been fully booked since, and Alex and Sophie away on conferences and courses to learn more techniques to share with you.
Sophie spent three days on a Dynamic Neuromuscular Stabilisation course; which looks to improve a person's movement quality and stabilisation, particularly their breathing patterns. This can be for pain reduction, injury prevention or improving sports performance.
Also look out for the new patient information videos in reception, on our website and Facebook posts to help you understand the benefits of chiropractic care and share it with your friends and family.
The facelift throughout the clinic is well underway thanks to our lovely painter Dave who is modernising our colour scheme - good bye magnolia. Some top tips from Andrew this month on keeping us well - body and soul over the bank holidays. Don't forget we are closed both bank holiday Mondays but for emergency advice call the help line on 07854707873. This is not for changing your appointment though please! We now have our connections with the imaging facility at QMC so we can access your images online and store them on your file which will help in managing your care so much better. Please let your chiropractor know if you want your images accessed (that's x-rays and MRI scans etc.) We are still waiting for the wall to be rebuilt so lookout for car park restrictions which may occur this month - we will text you information with your reminder text if there could be problems parking, so please read your text fully when you receive it just in case there is an extra message there. Finally congratulations to all our brave and fantastic patients who completed the London marathon last weekend and the amazing amount of money you raised for such worthy causes.