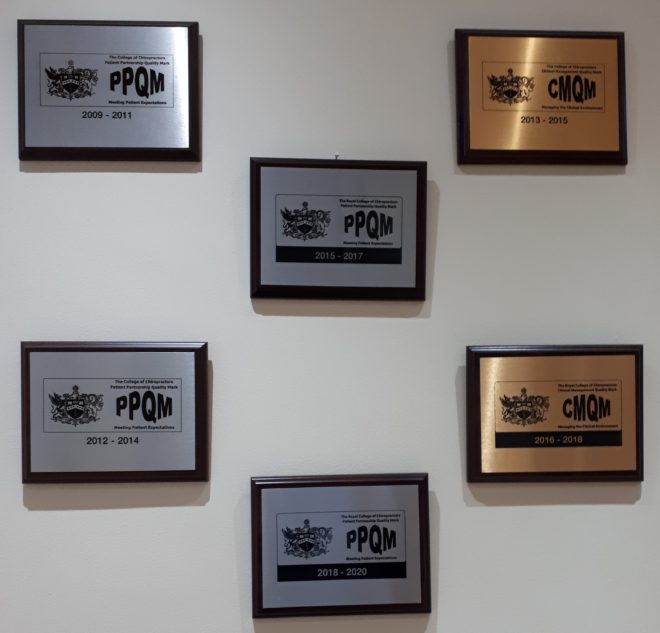 Clinic News
We need your help please…. You may well have seen these impressive plaques by the front door – The bronze coloured ones are the Clinical Management Quality Mark and it is up for renewal in November 2018. For us to be able to re-apply for this we have to collect data about the clinic and some of it needs to come from you. Firstly we have to submit a patient satisfaction questionnaire which we would like you to complete please and secondly if you have recently received an email from us about your condition from care response, we need you to complete all four responses please – the information is essential to allow us to show how we are doing in comparison to other chiropractic clinics.
So…because we know you like competitions we would like to enter you into a draw for participating in the patient satisfaction questionnaire and there will be with a chance to win either a bottle of Prosecco or a 25th anniversary goody bag. There are three of each up for grabs so make sure you get your questionnaire from reception and check the inclusion box at the bottom if you want to be in the draw.
In addition if you complete all FOUR emails sent for care response we will give you an EXTRA TWO stamps on your loyalty card- so please help us to get recognition by the Royal College of Chiropractic for our continued efforts in producing high quality management and service – we can only do it with your support. Thank you.
Loyalty cards – please can we politely remind you that terms and conditions apply to these cards – details of which can been found on our website – please keep your card safe as we cannot back date stamps for lost cards etc.
Missed appointment and late cancellations: we are seeing an increasing number of missed appointment recently – please check your text reminder carefully – as we are very busy we have a waiting list for patients requiring appointments and it is frustrating to see that appointments are wasted in this way so please help us to help you.